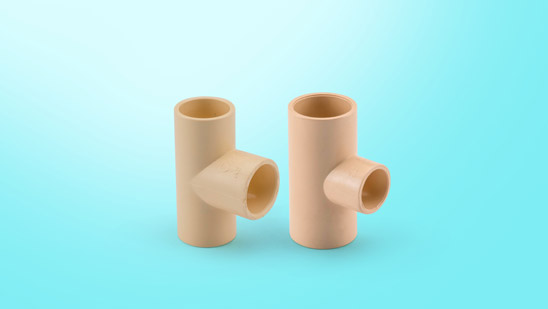 Check All Types of CPVC Brass, Reducing, Cross & 4 way Tee from Oriplast
Ori-Plast cPVC Tees
Ori-Plast has been a ground-breaking brand in the field of plastic pipes and fittings for the last 50 years. As one of the best cPVC pipes manufacturing companies in India, we are committed to excellence and producing superior quality plumbing solution products at our well-equipped manufacturing units in Odisha, West Bengal and Rajasthan under stringent quality control measures.
Equipped with everlasting quality and durability, Ori-Plast products are adaptable and multipurpose to fit a diverse range of applications. Our cPVC pipes and fittings come with ISI mark (ISI 15778) and with global quality standards certification of ASTM F441/F441M.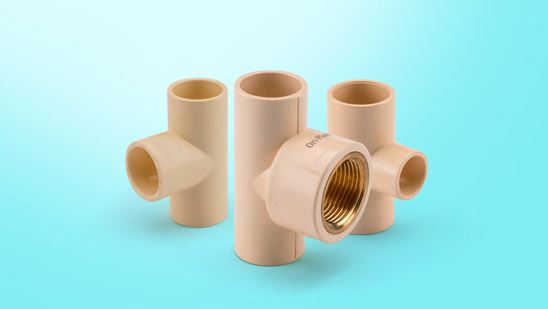 Ori-Plast Best Quality cPVC Pipes and Fittings
Ori-Plast CPVC pipes and fittings are made from best quality thermoplastic material. These Chlorinated Polyvinyl Chloride or cPVC pipes are produced by chlorination of Polyvinyl Chloride (PVC) resin that enhances the strength of Ori-Plast CPVC pipes and fittings and enables them to withstand high temperatures (up to 93°C).
As one of the best cPVC pipe manufacturers, Ori-Plast cPVC pipes are manufactured in class I SDR and SCH series – SDR-11 (3 metres and 5 metres), Class II SDR-13.5 (3 metres and 5 metres), SCH-40 (3 metres and 5metres), and SCH-80 (3 metres and 5 metres). Thesepipes are made from identical cPVC compound material.
Ori-Plast cPVC Pipes
Class I / SDR 11
Class II / SDR 13.5
Sch 40
Sch 80
Ori-Plast cPVC Fittings
The cPVC fittings include Socket / Coupler plain, elbow 90, bend 45, reducer elbow 90,cPVC Tee 90, cPVC brass Tee, cPVC cross Tee, cPVC reducing Tee, cPVC 4- way Tee, cPVC cross Tee 90, end cap plain, reducer bush plain, cPVC reducer Tee, transition bushing, reducer MTA, step over bend, threaded end plug, and ball valve are all available in different sizes to fit your plumbing requirements.
All our CPVC pipes are produced in strict compliance with the regular industry standards.
The cPVC fittings include:
Socket / Coupler
Tee
Cross Tee
End Cap
Tank Connecting Nipple
Elbow (90˚ & 45˚)
Union
Pipe Clip
Ball Valve
Reducing Bush
Reducing Elbow
Reducing Socket
Reducing Tee
Step Over Bend
Ori-Plast cPVC pipes are all available in different sizes and can be customised to fit your specific applications.
Ori-Plast cPVC pipes and fittings are able to withstand high hot and cold temperatures, and are also self-extinguishing, i.e., non-combustible. They have high UV resistance and lower thermal conductivity and no bacterial growth compared to other piping material.
Ori-Plast CPVCTees are a fitting with three ends; Tees allow a water line to be bifurcated into two separate water transportation lines with a 90-degree connection as they come as two sides in a straight line and one on the side at a 90-degree angle. Ori-Plast also produces cPVC 4-way Tees.
These Tees are used to connect two lines into one main line. As most widely used parts in plumbing, Tees are an extremely versatile fitting. Though threaded versions are available, most Tees have slip socket ends. Ori-Plast cPVC Tee price are reasonable and competitive, providing the most value for money.