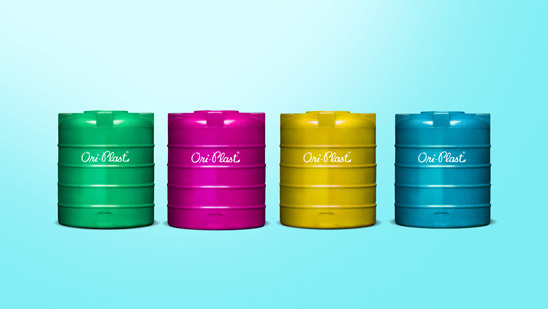 Ori-Plast Water Tanks
Mr.Sharma was plagued by the recurring problem of mold and algae accumulating in his overhead water storage tank. The water from the tank also gets too hot for use during the intense heat of summer. Whenhe took his problems to a new water tank dealer in his area, he learned that his choice of the current water tank was wrong and that Mr. Sharma should have opted for frontline plastic water tanks manufacturers like Ori-Plast.
Water Tanks are an integral of any Indian household across cities, towns, and villages. Choosing the best water tanks is important for all, as families rely on large capacity water tanks to store drinking water that is safe for consumption.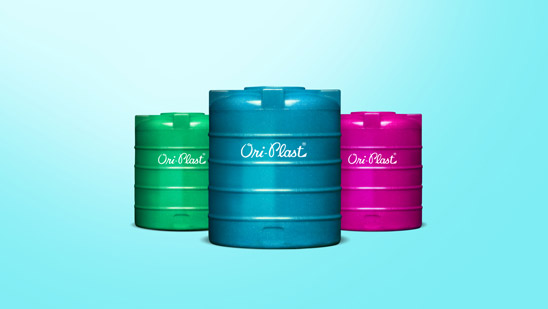 Why Choose Ori-Plast Best Water Tanks
Ori-Plast water tanks for home are made from LLDPE or Linear Low-Density Polyethylene. Designed and produced at our cutting-edge production factories, Ori-Plast LLDPE plastic water tanks come in multiple layers using the best raw material.
How Will Ori-Plast Water Tanks for Home Benefit You
Ensure Hygienic Water Storage: The inner layers of these poly water tanks are made from food-grade plastic to make potable water free from contamination and free from algae growth.
Chemical Reaction free and Anti-Bacterial Properties: Our high-quality resin used for the production of these plastic water tanks come with anti-bacterial properties making a safe and efficient potable water storage solution for most families in India.
Multiple Layers Ensure Reduce Environmental Stress: Ori-Plast plastic water tanks for home are characterized by their innovative multi-layer features. This ensures hygiene and environmental stress and crack resistance.
Leak proof: Our LDPE water tanks for home provide high storage capacity up to 1500 liters
UV stabilized: to ensure that there is no cracking, chalking or other environmental damage or loss of physical properties to the water tanks.
Ori-Plast Triple Layer Water Tank: To tackle the problem of water tanks supplying hot water during summer times, causing inconvenience to its customers, Ori-Plast introduced foam filled three-layered water storage tanks. The single-layer tanks cannot block the environmental effect from influencing the quality and temperature of water within the tank.
Other Utility Features: Our potable water storage tanks come fitted with airtight lids that are screw-able and keep dirt & flies out of the tank. The lid is designed to secure and providefor air-tight closure.
Ori-Plast LLDPE water tanks have corrugated sidebars to give them extra strength and come with ventilators, hoist hooks, and built-in inlet and overflow plumbing facilities.
Ori-Plastextends its legacy of innovation into the world of manufacturing highly hygienic and durable water storage solutions like multi-layered and LLDPE water tanks. Ori-Plast water tanks ensure safe and best quality potable water storage solutions at a reasonable cost and are produced under strict quality control measures.
Ori-Plast products go through stringent quality checks during their manufacturing process and our water tanks for home and commercial or agricultural use also come with high-quality assurance and are certified with IS 12701 mark.