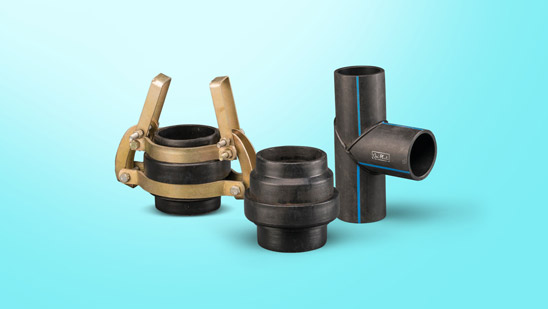 Ori-Plast HDPE Fittings
Ori-Plast is a reliable name in the world of PE and PVC pipes and other plasticized plumbing products in India. As we carry on with our legacy of delivering top quality thermoplastic pipes and fittings, Ori-Plast builds on its supremacy in the market, representing its drive for excellence for the last 50 years.
Ori-Plast wide range of productsfind application in various sectors across industries and are used in the transportation of Portable Water, drainage and sewerage, transportation of gases, Chemicals, lines, Waste Disposal, Borewells, Irrigation, and Sprinkler Systems and electrical/telecom ducting.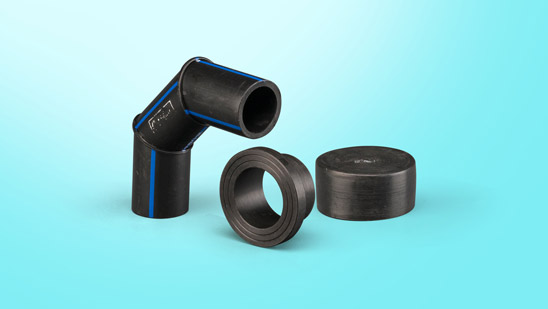 Superior Quality HDPE Fittings from Ori-Plast
Renowned for top quality HDPE pipe fittings, Ori-Plast remains one of the top HDPE fittings manufacturers in the country. We produce export-quality HDPE pipe fittings and other plumbing products that stand out in the market for their excellent quality, superior strength and everlasting durability. All Ori-Plast HDPE and other PE products like MDPE products conform to the Indian quality standards and come certified with BIS, BS, DIN & ISO, etc.
Why Choose Ori-Plast HDPE Pipe Fittings?
Ori-Plast HDPE pipes come with exemplary impact strength and offer superior resistance to abrasion. Strongly resist stress-cracking, our fittings have very low creep-rupture properties. Chemically inert, our HDPE pipe fittings have excellent insulation properties. Ori-Plast HDPE pipes are most prevalent of the two largest thermoplastic pipelines and extremely versatile. They find many applications in water supply and sewerage. Ori-Plast HDPE and HDPE PVC pipes for water come in black colour.
Ori-Plast HDPE PipeFittings
As a pioneering name among the HDPE Pipe distributors, Ori-Plast has a wide range of products that cater to the vast cross-section of customers looking for top quality HDPE pipe fittings supply.
Ori-Plast HDPE pipe fittings are highly customizable and we have one of the widest variants of HDP pipe fittings available in the market. These come in with easy installing features and provide 11% leak-proof plumbing. The sizes of the models vary from 20mm to 630 mm.
Ori-Plast uses the most reliable Butt Fusion techniques to ensure quick joining and easy weldability.
Leaders in the industry, we offer HDPE tee, HDPE fabricated equal tee, HDPE flange, HDPE long neck pipe end, HDPE end cap,and HDPE blind flanges. Our other HDPE fittings include:
Bend (Fabricated)
MS Flange
Reducer (Step1)
Reducer (Step2)
Reducer (Step3)
Reducer (Step4)
ZUT PUT Coupling
PE Coupling / Expansion Joint
Handi Band SS Repair Clamp
Finger Repair Clamp
Our HDPE fitting come with distinct quality control markings of IS 4984 and pipes come in the following 4 ranges with:
HDPE Pipes (IS 4984)
HDPE Pipes (IS 14333)Dimensional Chart
HDPE Pipes as per IS 4984: 2016 (Grade PE 63,80,100)
HDPE Pipes as per IS 14333:1996 for PE 63 Grade of Material
HDPE Pipes as per IS 14333:1996 for PE 80 Grade of Material
HDPE Pipes as per IS 14333:1996 for PE 100 Grade of Material
POLYETHYLENE Pipes as per ISO 4427 – 2: 2003
POLYETHYLENE Pipes as per ISO 4427 – 2: 2007
Standard
IS 4984
IS 14333
IS 1239 Part 1
Reach us for all your HDPE fittings and pipes requirements.