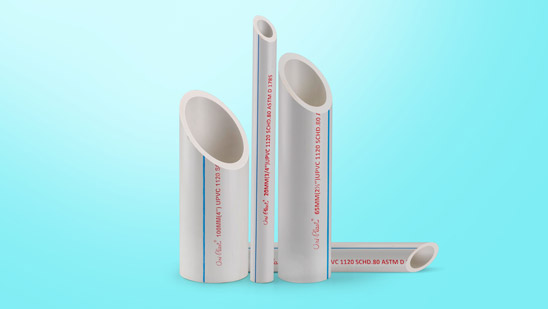 Best quality, competitively priced Ori-Plast UPVC pipes and fittings
One of the leading manufacturers and suppliers of UPVC pipes and fittings, Ori-Plast is committed to delivering the best quality unplasticized plumbing solutions for all plastic water pipes requirements. Producing cutting-edge plastic water transportation products of various types and sizes to suit a wide range of requirements; our UPVC pipes prices are highly competitive. We manufacture according to Indian (ISI) and other international standards (ASTMD). We ensure the timely delivery of all our products andconform to the best industry standards.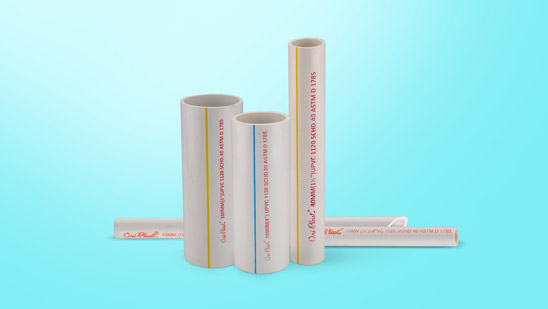 Delivering Superior Quality Plumbing and Potable Water Transportation System for Diverse Range of Applications
Our customized products ensure smooth customer experience and come with quality assurance, application expertise, and end usage guideline services.Designed to serve both drinking water transportation and plumbing requirements, our areas of application cover:
Coldwater plumbing in residential and commercial buildings
Drinking water pipe distribution for both mains and supply lines
Water Storage system – Water Tanks
Garden Hose Pipes
Ori-Plast UPVC pipes can remain neutral to all transported liquids
Sewerage and Discharge Pipe system
Drainage Piping System
Waste Disposal System
Borewells and Sprinklers pipes
Drip Water Irrigation Systems
Domestic and Industrial Electrical Installation
Ori-Plast for One-Stop Pipes and Fitting Solutions
Ori-Plast Pipes
Ori-Plast ASTM plumbing pipes are manufactured as per ASTM D 1785. The maximum continuous service temperature for our UPVC plumbing pipes is 60-degree centigrade. Ori-Plast ASTM pipes are abrasion resistant, weigh less and are produced with extensive mechanical strength, toughness, and durability. Ori-Plast ASTM pipes are more cost-effective when compared to conventional G.I. pipes and offer all the advantages of a plastic piping system. We have the most economical UPVC price range and our 110mm UPVC pipe price is one of the most competitive in the market. Ourpipes are available in the standard length of 3 meters and 6 meters in both plain and threaded ends. The threads are compatible with GI fittings as per IS-554.
These are the key reasons that our pipes are most favoured in construction and building applications.
Ori-Plast Fittings
Coming in blue and white colours, Ori-Plast ASTM Fittings for pipes are available in schedule 80 series. Ori-Plast solvent cement is recommended for joining the fittings to the pipes for a permanent homogeneous joint. Such joints are also known as cold welded joints that ensure 100% leak-proof plumbing and are regarded to be great joining system.
Ori-Plast comes with the best choice of a wide range of fittings and are available in various sizes from ½ inch to 4 inches and cater to all plumbing purposes.
Offering easy and low-cost installation, our drainage fittingscut down on operational costs substantially, requiring almost zero maintenance.Strong and durable,Ori-Plast UPVC fittings and 110mm UPVC pipes price saves on the cost of replacement in the long run.