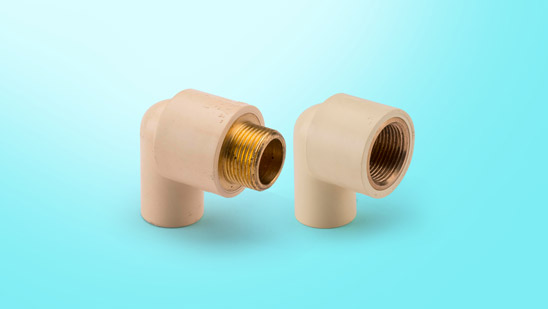 cPVC Elbow
Ori-Plast Best Quality cPVCProducts
As a leading manufacturer of Chlorinated Polyvinyl Chloride or cPVC pipes in India, Ori-Plast cPVC pipes are used for high-pressure water distribution system for all hot and cold-water applications. These pipes and fittings are considered an ideal replacement for galvanized iron pipe system.
Ori-Plast CPVC pipes and fittings are made from the best quality thermoplastic material which is. produced by chlorination of Polyvinyl Chloride (PVC) resin that enhances the strength of Ori-Plast CPVC pipes and fittings and enables theseCPVC pipes to withstand high temperatures (up to 93°C).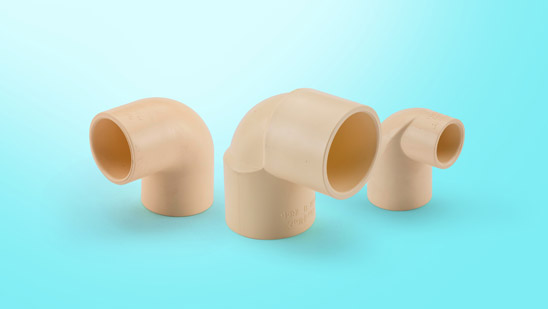 Dimensional accuracy and durability characterize the Ori-Plast pipes and fittings which are also UV stabilized and provide leak-proof joints that are welded by solvent cement.
As one of the best cPVC pipes and fittings, Ori-Plast products are versatile to fit a diverse range of applications and come with ISI mark (ISI 15778) and with global quality standards certification of ASTM F441/F441M.
Ori-Plast – EverlastingcPVC Pipes and Fittings Available in Best Price and Quality
As one of the best cPVC pipe manufacturers, Ori-Plast cPVC pipes are manufactured in class I SDR and SCH series – SDR-11 (3 meters and 5 meters), Class II SDR-13.5 (3 meters and 5 meters), SCH-40 (3 meters and 5 meters), and SCH-80 (3 meters and 5 meters).
List of Ori-Plast cPVC Pipes
Class I / SDR 11
Class II / SDR 13.5
Sch 40
Sch 80
Ori-Plast cPVC Fittings
The list of cPVC fittings include:
Socket / Coupler
Tee
Cross Tee
End Cap
Tank Connecting Nipple
Elbow (90˚ & 45˚)
Union
Pipe Clip
Ball Valve
Reducing Bush
Reducing Elbow
Reducing Socket
Reducing Tee
Step Over Bend
Ori-Plast cPVC Elbows Come in Different Shapes and with Easy Manoeuvrability
Pioneers in the industry, we offer cPVC elbow, cPVC brass elbow, cPVC 3-way elbow, cPVC 45-degree elbow, cPVC reducer elbow, cPVC 90-degree elbow, cPVC threaded elbow, cPVC female elbow, cPVC pipe elbow, cPVC street elbow.
All Ori-Plast cPVC fittings come with customizable benefits where we produce according to the bulk need of the customers
Ori-Plast cPVC Elbows Come with Excellent Features
If you need your piping system to give a turn or get around something in your piping system, you will need to curve your pipeline around with Ori-Plast cPVC elbows. Elbows most commonly come in 90-degree angles and 45-degree angles, so your pipeline can be re-directed according to your need or piping system specification. Though threaded versions are available, most elbows have slip socket ends. Ori-PlastcPVCelbow prices are reasonable and competitive, providing the most value for money.
cPVC 3-way elbow – Also known as side outlet elbows, 3-Way cPVC fittings are a popular part for hot and cold-water plumbing applications often do. Our cPVC elbow and cPVC brass elbow fittings are made to look great while still being strong and durable.
cPVC 45-degree elbow and cPVC 90-degree elbow – give a 45degree and 90-degree turn to water pipeline respectively
cPVC brass elbow – gives better durability and come with no scaling properties
Buy online or contact us to get a free quote on the best quality cPVC Elbows