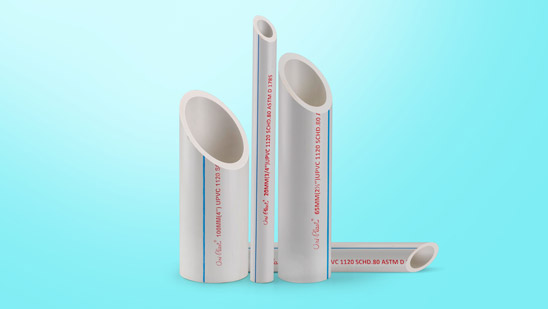 PVC pipes
PVC pipes are the most commonly and widely used materials, when it comes to plumbing. There are mainly two basic forms of PVC, rigid and flexible. Around 66% of homeowners use PVC pipes for their homes, and 75% in household sanitary sewer pipe applications.
CPVC and UPVC are the other two variants of PVC pipes. These two variants are equally important when it comes to plumbing.
CPVC and UPVC are the other two variants of PVC pipes. These two variants are equally important when it comes to plumbing.
Ori-Plast limited, is a pipe manufacturing company. We are over 5-decade-old enterprise, a pioneer and leader in PVC & PE Pipes and fittings. Ori-Plast limited was founded by Mr. S.R.Agarwal in the year 1965. Our headquarter is based in Kolkata and have further expansion in Odisha, Behror in Rajasthan, Bagnan & Sankrial in West Bengal.
Our products fit the National and International Standards as well as meet the commercial market demands. We offer unsurpassed quality and superior features. Being quality conscious, we distinguished our self from other organizations as a company having a phenomenal inbuilt culture of high customer care.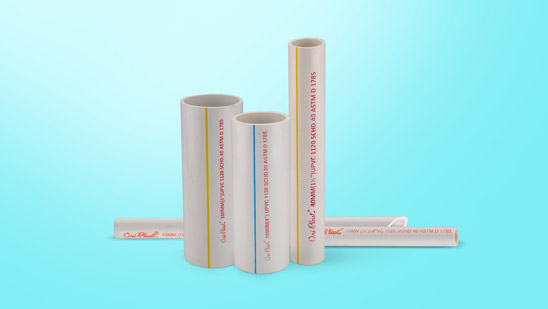 PVC pipes Standards and specifications
ASTM D2241 :
PVC Pressure-Rated Pipe (SDR Series) Standard Specification
ASTM D3034 :
For Type PSM Polyvinyl Chloride (PVC) Sewer Pipe and Fittings
ASTM F1336:
PVC Gasketed Sewer Fittings
ASTM F1483 :
Oriented PVC, PVCO, Pressure Pipe
ASTM F1803 :
PVC closed profile Gravity Pipe and Fittings Based on Controlled inside Diameter
ASTM F679 :
PVC Large-Diameter Plastic Gravity Sewer Pipe and Fittings
ASTM F794 :
PVC Profile Gravity Sewer Pipe and Fittings Based on Controlled inside Diameter
ASTM F949:
Poly (Vinyl Chloride) (PVC) Corrugated Sewer Pipe with a smooth interior
AWWA C900 :
For Water Transmission and Distribution, PVC Pressure Pipe and Fabricated Fittings, 4-Inch through 60-Inch (100mm through 1500mm)
AWWA C907 :
For Water, Wastewater, and Reclaimed Water Service, moulded Polyvinyl Chloride (PVC) Pressure Fittings, 4 in. through 12 in. (100 mm through 300 mm)
FM 1612:
Polyvinyl Chloride (Pvc) Pipe And Fitting For Underground Fire Protection Service
UL 1285:
Polyvinyl Chloride (PVC), and Oriented Polyvinyl Chloride (PVCO) for Underground Fire Service
Commonly Available sizes of PVC pipes
The most common sizes of PVC pipes that are used for household purpose would be 1.5-, 2-, 3- and 4-inch.
The 1.5-inch size is used to capture water flowing out of a kitchen sink or a tub.
The 2-inch pipe is commonly used to drain the water from any shower stall or washing machine, and it can be also used as a vertical stack for a sink.
A 3-inch pipe is used in homes to drain toilets.
The 4-inch pipe is used to build the drainage under floors or in closed spaces to transport all the wastewater from a home out to the septic tank.
All available sizes of PVC can range from 1.5″ to 24″ (used for industrial purposes).
A schedule 40 PVC pipe that has the same dimensions as traditional PVC but has lighter weight is recommended.
Ori-Plast Product range
Our product range varies from
cPVC Pipes & Fittings
uPCV Pipes & Fittings
Agriculture Pipes & Fittings
Drip irrigation pipes
PE pipes for water
PE pipes for drainage
PE pipes for gas
PE pipes for telecom
SWR Pipes & Fittings
Borewell and column Pipes & Fittings
Camlock Pipes & Fittings
PERT Pipes & Fittings
LLDPE Water tank
LLDPE dustbin
Direct action hand pump
PVC-O pipes
PVC Garden Hose pipes
Features and benefits
Durable and Light weight
Easy installation
Non-toxic and safe material
Budget friendly
Fire resistant material
Good insulator, so used in electrical appliances
Quality and Certifications
Talking about the quality of our products that would be the last thing ever we will compromise on. That is why we say proudly, we are one of the best pipe manufacturers in India. We have ISO 9001:2015 certified PVC & PE pipes and allied items. Added to that we have received acclamations from a wide number of organizations like CIDC (Construction Industry Development Council), provided us with the certificate of Enlistment and gave us the title of approved vendor.
Our entire range of products meets the national and international standards as well as commercial market demands.
Why world class
Ori-Plast has been the best PVC pipe manufacturer for the past 50 years in terms of quality and reasonable pricing. We provide the best complete piping solution to millions of homes, industries and farms.
Moreover, we as one of the best PVC pipe manufacturers in India are committed to providing a best-in-class range of pipes and fittings that conform to the highest global standards at a very reasonable price.
PVC pipes we manufacture
Our PVC pipes are manufactured using the latest innovations in irrigation, plumbing, and sewerage plumbing technologies. We are constantly getting better every day. That's what makes us the "Best ".
Ori-Plast has a wide range of PVC pipes which are highly durable and superior to most other market products. Rigorous tests are carried out on our PVC pipes making them ready for our costumers thus, building up an unbreakable trust between the manufacturer and the customer.
What our customers say
Being a trusted PVC pipe supplier, we take pride in our reputation, while striving to achieve 100% customer satisfaction.
The entire range of products conforms to National and International Standards as well as commercial market demands. So, we gladly say that we are the best in what we do. We are proud to have millions of customer completely satisfied.