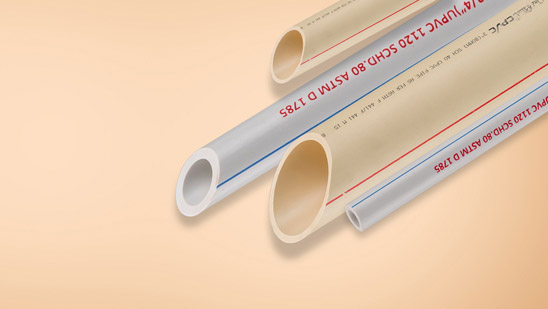 Ori-Plast is the Leading PVC Pipes Manufacturer in Assam
Assam's groundwater condition suffers from high content of fluoride and arsenic despite receiving good amount of rainfall each year. With worsening conditions of contamination in drinking water, Assam residents are looking for long-term plumbing solutions that promise to provide safe and clean drinking water. As a certified and government approved transporter of potable water, Ori-Plast has been successful in establishing itself as a trusted Polyvinyl Chloride (PVC) pipes brand that provides long-lasting water supply solutions in the state, for over many decades.
Ori-Plast PVC Pipes Come with Superior Durability and Chemical Resistance
Ori-Plast, as a pioneering PVC pipe manufacturer in Guwahati, is renowned for their superiority in manufacturing top-class PVC pipes and fittings, in terms of tensile strength, durability and chemical resistance properties that resist leaching of harmful chemicals into water that run through Ori-Plast pipes. Ori-Plast PVC products have been confirmed to be more beneficial than other PVC pipes available in the markets of North-Eastern state of Assam.
International Standard Quality PVC Pipes from Ori-Plast
A trusted brand for the last 50 years, Ori-Plast is a reliable PVC manufacturer in Assam and known for its commitment in producing international-quality PVC and PE plumbing products for water supply and drainage solutions for residential, commercial and agricultural sectors. Ori-Plast has four state-of-the-art manufacturing facilities in Odisha, West Bengal and Rajasthan and each of these are ISO 9001:2015 certified, validating the Company's strict adherence to both national and international quality. Standards like BIS, ISI 15778 and ASTM D1785 and ASTM D2467. Ori-Plast ISI and ISO: 9001 quality certified products have successfully met every demand of commercial market across India and offered excellent customer satisfaction for its millions of consumers.
Best Selling Manufacturer of Wide Range of PVC Pipes
A pioneer in the world of international quality plastic products, Ori-Plast tops the list of PVC pipes manufacturers in Assam. At their well-equipped production facilities, Ori-Plast produces a wide range of top-quality PVC products including PVC pipes, HDPE pipes, casing pipes, borewell and drip irrigation pipes and LLDPE water tanks and dust bins. All PVC pipes and fittings come at a reasonable price in the Assam market and are used for an array for plumbing solutions as long-term water sources for homes, factories and farms.
Cutting-Edge Manufacturing Facilities Ensuring Production of Top-Quality PVC
All plastic pipesat Ori-Plast are made by the method of extrusion, from quality raw material like virgin PVC, at the 4 Ori-Plast plants across the 3 states of India – West Bengal, Odisha and Rajasthan. Along with technically advanced extrusion plants, injection moulding machines and allied state-of-art machinery, these plants have cutting-edge testing labs where each finished product undergoes stringent quality checks. As a futuristic PVC manufacturer, Ori-Plast's well-equipped R&D Departments relentlessly innovate blue-prints of technologically advanced PVC products that are capable of tackling region-specific demands.
Ori-Plast Offers Complete Plumbing System
Characterised by their durability, alkali resistance, quality, easy installation & affordability, Ori-Plast pipes are also long-lasting and offer complete plumbing systems for both cold and hot water distribution.
Easy transportation and hassle-free installation make these PVC pipes a cost-effective alternative in the Assam market. Over many years, Assam has come to put its trust in the non-toxic, biological & corrosion resistant and anti-scaling properties of Ori-Plast PVC Pipes to ensure safe transportation and storage of contamination-free drinking water in the land of the Brahmaputra.
Get in touch with us to get a free quote today!